VelaShape is the first and leading FDA-cleared non-invasive medical solution for circumferential reduction and the first FDA cleared platform for cellulite reduction-making it a true b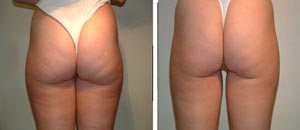 ody contouring solution.
VelaShape is an effective solution for multiple treatment areas: Posterior Thigh • Buttocks • Outer Thigh & Hip • Anterior Thigh • Inner Thigh • Saddlebags • Love Handles • Abdomen & Back.
How VelaShape works
VelaShape features the revolutionary elōs combination of bi-polar radiofrequency (RF), infrared light energies, plus negative pressure and tissue manipulation.
The synergistic combination of infrared and conducted RF energies increase the oxygen intracellular diffusion by heating the skin.  Vacuum and specially designed rollers manipulate and smooth out the skin to facilitate safe and efficient energy delivery.
The net result increases the metabolism of stored energy (lipolysis), increases lymphatic drainage and reduces or shrinks the size of the actual fat chamber.
The bottom line:  A reduction in the circumference of the treated area and a smoother appearance of the skin's surface, including a reduction in cellulite.
In a multi-center study, 85% of the treated areas have reported circumferences reduction of thighs of at least 1cm; ranging up to 7.2cm in reduction.
A minimum of six treatments are required, spaced one week apart. Members pricing is available.  To maximize your results we recommend the use of our Nutritional Cleansing and Fat Burning supplements during and after your treatements. Ask your technician about the best combination for the results you seek. 
NOTE: Although Velashape appointments are booked as 45 minute sessions, each person and body area responds differently to the treatment. Actual treatment times will vary from person to person, depending on how quickly your body heats to a specified temperature. Your technician always has your safety and the effectiveness of your treatment in mind. This also includes time for you to undress and dress again after your treatment.